Music and dancing in salsa
Talking about Salsa today involves a reference to a musical movement as well as to a social dance. But there are distinctive differences as to the origins and characteristics of this form of dance and music in Cuba and other Caribbean territories and Latino communities in the United States, today popularly and colloquially all known as Salsa,
History of Casino dancing
Casino dancing, a popular and traditional social Cuban dance that emerged in the late 1950s, has transcended borders as part of the process of constant cultural change associated with the worldwide phenomenon of Salsa, boosted by globalization.
Casino dancing, commonly categorized as "the Cuban Salsa style", has gone from anonymity to indifference, to not being acknowledged as a genuine expression of dancing, to achieving national recognition and international relevance.
Nowadays, Casino dancing continues to be closely linked to the Salsa movement. It happens in private parties, clubs, "salsatecas", ballrooms, academies and musical shows at cabarets and in other spaces.
Thus, Salsa is a part of Cuban everyday life. Its impact is felt through the mass media and social networks, similar to visiting any place around the world. So we can say that, when talking about Salsa, we are referring to a global event, a globalized culture.
Emergence of a Musical Mix
Salsa music has been classified by experts or its creators as a sociocultural movement, a musical genre, a way of making music, or as the 'Chronicle of Urban Caribbean'. With Afro-Cuban foundations and the beat of Cuban Son, different Latin American and Caribbean musical traditions were joined together to produce this form of music, as a result of the interpretative confluence of musicians from different nations, mainly Puerto Ricans, Venezuelans, Colombians, Dominicans, Panamanians, Americans and Cubans.
This musical stew was born in the Latino communities of New York, in Spanish Harlem, known as 'El Barrio'; the latter is a common term used throughout Latin America to refer to a community space, a symbol of identity and of the origin of its people.
This urban musical movement was nurtured by music and dance genres from a particular cultural area: Latin America and the Caribbean.That is where cultural elements developed, and these shared common roots, including history, language and art (dance and music).
First, a transculturation process took place among the European, African and Indigenous American cultures, starting in the 15th century. In the 20th century, this cultural fusion continued in Latin American and Caribbean countries due to an intense migration process caused by the political, economic and social situations of this historic period.
By the 1920s, the United States was a world power, with a high level of technological and cultural development, especially with the phonograph, the radio and the cinema. That is why it became the destination of many Cuban artists (musicians, singers, dancers) who were hired by the emerging multinational companies. Likewise, there was a strong community of economic immigrants striving for the "American dream," especially Puerto Ricans. It is precisely during this initial migration period, which lasted through the 1950s, that the new phenomenon began to take shape.
Salsa, a commercial name
Even though this musical mix developed in the mid-1960s in a spontaneous and diverse way, it was not until 1975 that "Salsa" was consolidated as a commercial name, with the premier of a film by that name, produced by Fania Records, a company founded by Johnny Pacheco (Dominican musician and composer) and Jerri Masucci (Italo-American lawyer) in New York. This company, with its great commercial and promotional infrastructure, ensured the consolidation of this cultural phenomenon and made New York known as "the capital of Salsa."
The term Salsa was then a source of heated debates, especially because it had been used since long before by famous musicians to name their productions or songs, going back to when Ignacio Piñeiro launched his Son "Échale Salsita" in 1933.
Likewise, during the 60s, radio shows and dance clubs were already using and playing with the word Salsa. It refers to a mix of ingredients to add flavor to food, and so is a metaphor for the hybrid of musical genres of the so-called tropical music, with genres like Son, Rumba, Güajira, Plena, Bomba, Merengue, Vallenato, Samba and Tamborcito. In the process of creation you can notice the influence of Jazz and Rock and Roll, as well as closer roots in Afro-Cuban Jazz, Pachanga and Boogaloo.
Detractors came along as commercial success increased. They denied the existence of this musical phenomenon by arguing that it lacked original features. This debate grew worse due to the deterioration, beginning in 1962, of what had been a constant cultural exchange between Cuban musicians, the rest of the Caribbean, and the United States.
Worldwide phenomenon and local characteristics
Nevertheless, after young and older Latino musicians joined together as a result of the demands of the market and dancing public, Salsa enjoyed an international boom between 1973 and 1980. This was led by Fania Productions and by many other famous bands and musicians who developed their own music, something that was very much applauded by the Salsa world. Bands emerged throughout the Caribbean and Latin America, and soon Salsa could be found on every continent.
In the process of global and regional diffusion, Salsa assimilated features and elements of local music genres and other Caribbean traditional music and dance genres. This brought about certain musical peculiarities depending on the country, but the music and dance have always maintained their essence.
Salsa dancing
Regarding Salsa dancing, the same assimilation of traditional cultural features of each place or country occurred. This is because social dancing, as a way of expressing our feelings with our bodies in relation to time and space, leads to linking together movements and expressive configurations based on a constant dialogue with rhythm, melody and musical texts. That is why there are different styles of dancing Salsa, not just one unique style, as is the case with Salsa music.
Along with the new musical movement, a new hybrid style of dancing in couples developed. This involves certain body language expressions, ways of holding and leading the partner, twists and lifts, and acrobatic movements taken from Rock and Roll, Swing, Mambo, Cha-cha-chá and Urban Son, among others.
Ballroom Salsa style
In addition to the aforementioned factors, we should also refer to the influence of Ballroom dance, which is a sporting or competition style established since the 20th century on an international scale. This is known as Ballroom Salsa style in the United States, and it has two central styles: New York and Los Angeles. Other variants have emerged such as Mambo and Palladium, promoted by prestigious Salsa dancers and teachers, thanks to their creativity, methodology and spectacular performances.
Ballroom Salsa style is characterized by a couple dancing steps and figures within a fixed space, along a straight imaginary line. This line works as a guide to mark either the basic step, moving your feet back and forth, or the space for the partner exchange position known as Cross Body Lead.
It is a dance of considerable technical complexity for several reasons: stylized body language (straight body position, arms stretched in several directions, ways of moving and touching their hair, head movements); it's danced at a very high speed and involves constant fast turns at medium and low levels, performed mainly by the woman; it also includes pauses and acrobatic movements that require great dexterity by both dancers.
The man leads, but the woman gets to show off more in her performance. This Ballroom dance style usually has an artistic stage performance. Differences among U.S. styles are based on the way the lead starts marking his step (left foot forward or backward), by the speed while dancing (slower or faster), and by the way of setting the music tempo in relation to the step (first or second quaver of the beat), called On 1 or On 2.
Variants of Ballroom Salsa style
Other internationally recognized Salsa dancing styles are the Puerto Rican, the Dominican and the Venezuelan. Although they can be classified as ballroom style dancing, they are freer and less showy than the U.S. styles. In the case of the Venezuelan style, the erotic energy between the dancers is emphasized, as is the inclusion of many turns.
Cali-style Salsa, from Cali, Colombia, is a rather particular style to perform because of the speed and the acrobatic stunts that characterize it. The difference between it and other Salsa styles is very clear: the use of fast leg moves with surprising lightness, improvised by couples, or as solos, or with elaborate choreography. The couple usually holds both hands up front to have more space between each other, making it easier for them to dance without tripping.
Because it is so complicated, very few people in Europe and elsewhere practice this Salsa style. However, we could say Colombia is the country where most Salsa is produced nowadays. Cali is known as "the Capital of Salsa," and every year the Cali Salsa World Championship takes place there, as part of the World Salsa Festival.
The Cuban dance of Casino
Casino, globally recognized as the 'Cuban style of Salsa dancing', is quite different from ballroom style Salsa, both in origin and in its main dancing features.
Contrary to other Salsa (ballroom) dance styles, Casino is performed in circular spaces.
Casino was created spontaneously and anonymously by the people for their own enjoyment and pleasure. It consists of a mix of steps, variants and figures of a whole series of dances from Cuban ballrooms over a period that stretched from the 18th century to the 1950s. However, its most important elements were Urban Son from Havana and the Cha-cha-chá.
The circular setting of Casino is a direct result of its main source, Cuban popular, or traditional dances. This setting is also very visible in the step that involves changing partners, known as "Dile que no" (which means "Say no to her").
Casino is a sort of revitalization of Son Habanero (from Havana), influenced as well by Jive and Rock and Roll, which were dance styles in fashion at the time. We can notice this influence and revitalization in Salsa's music arrangements and the increasing use of electric instruments.
Dance origins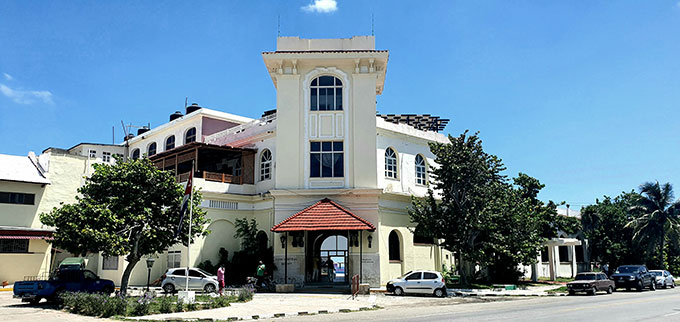 Casino takes its name from one of the most popular places for dancers in the late 1950s: Club Casino Deportivo of La Habana (Sports Casino Club), today renamed the Círculo Social Obrero Cristino Naranjo, (Calle 1ra, entre 8 y 10) in the municipality of Playa. Like other places for social dancing, a circular space favored the creation of a spontaneous and improvised dance style, and so this way of dancing was turned into a competitive game for having fun.
After Casino dancers ("casineros") got the hang of it and started loving it, the word spread among nautical clubs all over the northern Havana coast: 'Let's dance in a circle (rueda) like they do at the Casino, which finally stuck as 'Rueda de Casino' or Casino. Subsequently, it spread like wildfire throughout the Cuban capital's clubs and, finally, through television and other media, to the rest of the country. As the years went by, the custom turned into a habit, and then into a passionate tradition.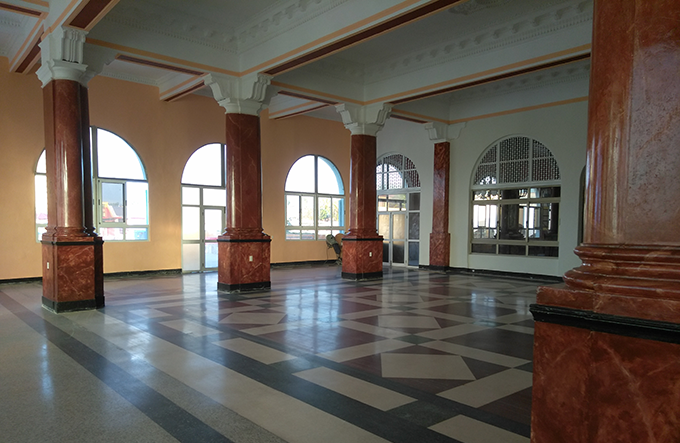 La Rueda de Casino (the Casino Wheel)
In its early years, Casino was danced within an improvised circle led by someone who had to be a proven skillful Casino dancer. These circles then became organized and rehearsed among groups of friends and family, and very famous wheels (ruedas) were formed, such as those known as the Bear's, the Twins' and Ronsendo's. That is why names were given to steps and moves, so that they could be understood when spontaneously sang by the wheel's (rueda's) leader. This style of dance was later practiced by independent couples and in a double line.
Music and casino dancing
It's a historic rule that every music genre comes along with its own dance. It did not happen this way with Casino; in fact, it has been accompanied from the very beginning by all sorts of genres, inter-genres, styles and diverse musical forms in fashion all over the country, including many that were not created in Cuba. Some of these are Urban Son, Guaracha, Pachanga, Songo, Changüí 68, Ranchera-son, Conga-son, Palo-son, Timba and Latino pop.
Rediscovery of the 80s
Until the early 1980s, there was no knowledge of Salsa in Cuba, and the world did not know about Casino or other Cuban musical genres created after 1959. One important reason for this was the stagnation of Cuban music's diffusion outside of the country. After several domestic socio-cultural events, a fruitful cultural movement began, enabling the renewal of international tours by artists and professionals. This brought about new exchanges among local bands that regained the prestige that came with the quality of the Cuban popular music.
At the same time, with Casino, a new process of promotion and validation began at the national and international levels. Casino began to be taught as part of the National System of Art Education. Courses for foreigners were offered by dance schools, the University of the Arts (ISA) and other venues for professional dance groups. Salsa dancing became part of artistic shows for tourists and of the international tours of many companies.
Teaching and Academia
Today, Salsa dancing is taught as part of cultural exchanges with other countries, and it is also taught by Cuban dance professionals who reside abroad and have founded their own dance academies.
There are several reasons to learn Casino, but the most attractive focus on its expressive features: body movements that seem natural without being showy, based on the swinging of the hips in combination with the torso and shoulder vibration; keeping time with the rhythm of the music; marking of the beat following the music in three variants (first, second or third beat quaver); a variety of well-known figures and turns, with the possibility of creating your own; being physically close to your dance partner; continued circular movement with changes of direction; different ways to hold your partner, both in the social dance position and the closed position; the leading role for men and spotlight for women; different ways of using space for more enjoyment by independent couples, in a circle, in parallel lines, and individually, using improvised moves.
Dancers and teachers alike have participated in Salsa competitions, courses and shows around the world. Likewise, TV shows were created in Cuba such as 'Para Bailar' (To Dance) and 'Para Bailar Casino' (To Dance Casino) and important international festivals, such as 'Baila en Cuba (Dancing in Cuba) or 'Festival de la Salsa' (The Salsa Festival) have been organized to promote this genre.
Dancing Casino today
Today, Casino is in excellent health, competing with other dance styles and genres of Caribbean and Latin American music.
Casino has reached a high level of expressive and interpretative development due to a continuous process of assimilation, denial, renovation and progressive change toward new creations that have been passed from generation to generation of dancers over seven decades.
This fact, alongside the possibility that its basic steps and figures can be adjusted to different musical forms according to the rhythm, is what has made the success of this dance genre last for so long. Cuban Casino dancers today, whether residing in or outside of Cuba, use Casino dance to interpret Salsa and many other musical genres, even the most contemporary.