Traditional dances
Generally speaking, traditional or popular dances are those created by the people, the majority of society, as part of a set of values and elements of identity preserving certain moments in history. These dances are also in continuous transformation to meet people's needs. They are part of a repertoire of movements and gestures accepted with pleasure by the collective, hence their solidary, shared, authentic and non-stereotypical nature.
However, a wide variety of traditional dances all over the world have been classified by experts according to their origin, motivation, style, structure, participants, geographic area and context.
As a way to tell apart the different features amongst traditional dances, we can define Ballroom dances as those practiced by couples following a pattern of previously established steps and figures that respond to a specific popular music genre.
They are playful, free-spirited and usually danced during important life events. There are mostly related to social centers within cities, and take place at dance halls and recreational spaces such as social clubs, cabarets and public squares. Circumstances in such places favor romantic meetings for couples, making new friends or enjoying collective preferences.
Teaching and competition
Today, the teaching-learning process of ballroom dances happens both in dance academies in many countries of the world, or in the traditional and natural way: passed on by family and friends observing and imitating moves within the context of social meetings.
There are two internationally known styles of this kind of dance: the social ballroom dance and the sporting or competition ballroom dance.
Social ballroom dance
Social ballroom dances are those performed spontaneously and naturally by people in the countries where they were created and preserved, without the direct intervention of any entity dictating rules or a specific appropriate age.
In this case, dance patterns and rules are established by the collective, anonymously. They are performed for the enjoyment and fun of the participants and not with the aim of entertaining an audience. They can be danced during important social events like births, quinceañera (Sweet 15) and wedding parties, and other special dates.
Competitive ballroom dances
Competitive or sporting ballroom dances are mostly known and practiced in Europe and the United States, though they have spread throughout many countries of the world. Their origin is closely linked to the international impact of the most representative traditional dances from around the world. These dances go through a process of stylization and academization by prestigious teachers in this area and are practiced by both amateurs and professionals at dance academies. Constant practice of this dance style as a sport has, as its main goal, presenting choreographies by single couples or groups of couples to specialized juries and audiences as competitive artistic shows. Tournaments are organized and regulated by national and international associations and federations of this dance style.
Latin and standard dances
Sporting or competitive ballroom dances are divided into two different styles with five dances each: Latin dances, which are more open (Samba, Rumba-bolero, Cha-cha-chá, Jive and Pasodoble) and Standard dances, which are identified by their extreme elegance (English Waltz, Viennese Waltz, Slow Fox and Quickstep).
Danceable expressions of Cuba
A wide range of social ballroom dances exist in Cuba, and they are classified in two groups: first, traditional dances passed on from generation to generation and still popular, such as Danzón, Urban Havana Son, Cha-cha-chá and Casino. And second, those of short term popularity, which lost momentum when their corresponding musical genres went out of fashion, such as Danzonete, Mambo, Pilón, Mozambique and Pachanga.
Likewise, other dance expressions have a historic, passive profile, and are no longer widely practiced, like Cuban or creole Contradanza, in fashion during the 19th century. And there are those active and practiced, like Casino, which has remained a favorite since the 1950s. However, we can say that today, all of these dances maintain their value and important social purpose as cultural monuments of the nation.
History and roots of social dances
Since the 16th century, many social ballroom dances in fashion, such as Contradanza (British, French and Spanish), minuet, rigadoons, lancers, polka, mazurka and waltz, began to be introduced in Cuba.
After gaining fame and popularity, they went through a process of adjustment to the island's socio cultural and geographical conditions, which led to what was called "creolization" or Cubanization, of both music and dance. Other Cuban dances emerged, such as the locally-created Contradanza, Danza Habanera (from Havana) and Danzón, based on hybrids of cultural expressions inherited from the main roots of our nationality: Hispanic, African and Franco-Haitian.
The dance hall
The origin of different Cuban social ballroom dances, urban and suburban, began in dance halls, which were very famous throughout the 19th and the 20th centuries all over the country.
Recreation societies, along with dance academies, salons in private residences and other places dedicated to recreation and leisure, influenced the dance preferences of Cubans during different historical periods.
Cuban open social ballroom dances
The first link of the chain of Cuban open social ballroom dances was the Creole Contradanza, a square dance that came from England and Normandy. The name was formed from the English words country and dance: country dance. The oldest Creole Contradanza known in Cuba is the "San Pascual Bailón", an anonymous musical composition published in 1803. Among its main features is the tango rhythm, which comes from African music.
Singular characteristics of the Cuban social ballroom dance
The most important element included in the Cuban social ballroom dance was its basic step, where the feet alternate moving forward and backward in four music tempos. Essentially, this basic step remained in Danza, Son and Casino, though it evolved in style throughout different historic and cultural periods.
Another feature of this music and dance genre is its dependence on a guide to lead, organize the order and position of couples, and to dictate figures: the bastonero. This position always went to outstanding dancers or masters of this art, with a reputation earned in the dance halls. Today we can witness their legacy in those we call captains, directors or guides of Ruedas de Casino (Casino Wheels).
Figures and choreography of the Cuban social ballroom dance
Some of the main Contradanza figures described by journalists and writers of the time and in other more recent research are the walk, chain, holding partners, cedazo (passing through as in an arch), poner danza, whipping, bow, allemande, throne, wings, turns, rodeos, mills and bridge.
Some of the most-used spatial designs in this dance were: double lines of couples in the shape of a street, circles, quartets, trios and duets. It's easy to identify hints of these elements of turns and spatial designs in Cha-cha-chá and Casino, both in the rueda (Wheel) form and independent couples.
Closed social dance
This type of link between couples in position of open social dance changed when Cuban Danza emerged in the early 19th century. Sungambelo, as a musical play, is the oldest known Cuban Danza, published in 1813 by an anonymous author.
Danza has a particular feature: for the first time, the male dancer holds his female partner in a closed dance position, influenced by the Waltz, which had reached worldwide fame by that time. This holding position between the partners was used in dances that came after. Its basic step is essentially the same as Contradanza, but its movements are slower and more relaxed.
Figures and choreography of the closed social dance
The main dance figures known today are the walk, eight, box, screw, turns and cedazo.
The box transcended with different nuances, accents and names to the Danzón, Danzonete, Son, Cha-cha-chá and Casino. In the case of the walk, it could be compared to the step used in Casino Rueda known as let's go up, let's go down. The screw is also present in Danzón and Son, as an important part of the dancers' skill.
The national dance
Danzón was born in the late 19th century, and is attributed to Miguel Faílde (1852-1921), from Matanzas.
The first Danzón was Las Alturas de Simpson, premiering at the social club Liceo de Matanzas on January 1, 1879. As a dance expression, it came from the Contradanza and Danza. The body and spatial movements of this new genre are slower and more rhythmic. You can notice in them how the Cuban social ballroom dance went through a process of artistic change that depicts distinctive elements of our national culture.
From the choreographic point of view, Danzón has a unique and novel feature in its time: to alternate moments of dancing, known as cedazos, and moments of rest, following the musical structure of rondo (ABACAD). Among the main figures of this genre we find the entrance step, walk, accented step, box and screw turn. All of these can be found in a synthetized and evolved form in the Son Habanero (from Havana), Cha-cha-chá and Casino. For a long time, Danzón was considered the national dance of Cuba.
Son
Urban Havana Son was born from the mix of Danzón, Danzonete and Son Oriental. The latter was brought from eastern Cuba to Havana around 1909 by Cuban soldiers and migrants. Its first moment of splendor was from the 1920s through the 30s, and it was played by trios, sextets and septets. In the 1950s, Urban Havana Son reached its peak of fame among Jazz bands that were in fashion at that time. This variant of Son was the most influential in the emergence of Danzonete, Cha-cha-chá, Mambo and Casino; its moves are slower, softer and more elegant; the social dance position is upright, and knee bending is less pronounced than in Son Montuno.
Characteristics of the son habanero
The greatest contribution of Havana Son to social ballroom dance were, in addition to its figures, the entrance step, the opening and closing of the dance couple, fast turns in different directions, the transition from the closed social dance position to the open position, gestures and moves for the man to show off, and fully-coordinated couple's turns. This music and dance genre had a great influence on Casino, particularly on how it emphasizes the basic step in relation to the music's beat, popularly known as dancing on or off-beat with the clave of Son.
Cha-cha-chá
Cha-cha-chá is another Cuban social ballroom dance that comes from Danzón, specifically from the New Danzón rhythm, which also was influenced by Son.
Enrique Jorrín (1926-1987), an outstanding Cuban violinist, composer and director, is considered the creator of this musical genre with his composition La Engañadora in 1949. While the dance style has anonymous origins, oral tradition and Jorrín himself claimed that the first dancers to create the steps that later defined this dance were members of Silver Star (an association of black people).
In the early 1950s, this dance became a regular at one of the most-visited dance halls in the Cuban capital: Prado and Neptuno, where the Cha-cha-chá was first played by the America Orchestra.
Cha-cha-chá rhythmic singularity
The first contribution of Cha-cha-chá to Cuban social ballroom dance was its basic step, enriched by the inclusion of the conga drums rhythm and the sound of the güiro —a carved gourd stroked by a wooden stick, producing the sound "cha-cha-cha"— which is precisely where the dance's name comes from. It is performed by couples either linked together in closed and open dance position or by single couples, which later influenced both Mambo and Casino.
Opening and closing, fast and slow turns by the couple, vuelta al hombro, amague, giros con palmadas, rodeo, cajón, la suiza and el cojito are among the figures of Cha-cha-chá.
An important precedent for Casino was dancing Cha-cha-chá in a rueda (wheel), but in that case figures had different names and it was more dynamic than the original genre.
Casino or Cuban salsa dance
Casino can be considered as the last link in the chain of Cuban ballroom social dances that have maintained their traditional essence, and it is one of the most popular in the world. It originated from a creative process involving the fusion of body and spatial designs of previous dances, mainly those in fashion in the late 1950s: Son Habanero (from Havana), Cha-cha-chá, Jive, and Rock and Roll.
The name Casino is taken from the place where this dance was conceived: the Club Casino Deportivo de La Habana.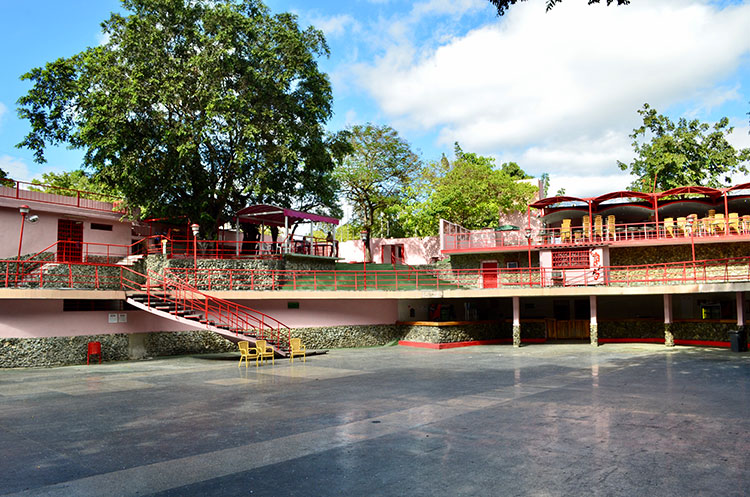 Musical singularity of the casino dance
Unlike previous social ballroom dances, Casino did not have a corresponding musical genre, for it was danced with every rhythm that could be adapted to its basic step.
With the international boom of salsa music, it has been identified as "the Cuban Salsa dance style". Dancing in a circular design and some other particular features make it different from other salsa dance styles. Casino has different uses of space for a couple's performance: independently, in a rueda (wheel), in parallel lines and freestyle, based on improvised phrases. Its contribution as a dance expression is great, not only because of the expressive gestural content in the movements, but also because of the variety of figures, turns and bows that characterize it. These can be done by independent couples (dile que no, enchufa, setenta, sombrero, candado, a Bayamo, etc.), as well as in a rueda (wheel): arriba, abajo, dame, la prima, la roza, pelota, cadena, etc. Along with traditional designs, it offers the possibility of freely creating others while maintaining the identity of its style.
Dances in fashion and their influence
In the long chain of Cuban social ballroom dances it is worth mentioning many others that while short-lived, had a real impact thanks to their popularity during certain periods of Cuba's music and dance history. Such is the case of the Mambo, Pachanga, Mozambique and Pilón, which are still part of the Cuban people's dance legacy: their steps have been incorporated as new figures of Casino. That is proof of how integrative and creative this dance genre can be.